I entered IIT Kanpur with no formal training in sports. My only claim to fame was that I was the substitute goalkeeper of my class football team in school. So when my student guide at IIT Kanpur
told me about CPA trails, I was naturally skeptical. He told us – Whatever happens, don't get stuck in NCC; it is very embarrassing. I decided to try my hand at swimming and to my surprise, my name was there in the list of 15 people selected. 

My first year was without any major spark. It was in my second year where I suddenly realized that if I put in effort, I could get into the team of 16. The Inter IIT was to be held in Kanpur and there was anticipation all around. My only chance of making the cut was if I got selected as the 4th person in
the freestyle relay team. There were as many as 4 people competing for this very spot and in the two months leading up to the Inter-IIT, I put in more effort than I had put into JEE. Every second reduced was a victory and all four aspirants were within a couple of seconds. Ultimately, I outperformed with a half second margin. In hindsight, this was the turning point of my stay at IIT
Kanpur. As it turned out, we made history with a 20 point whitewash in Swimming and Water Polo. We were heroes in campus and walked about with pride. 

This was also the first time I witnessed the main meet. Being part of the organizing committee, I witnessed the action upfront. There was a growing buzz in campus that Kanpur would win the GC for the first time ever. A couple of days before the finals, we looked set. However, a string of semi-final
defeats washed away all the aspirations. I watched the General Secretary of Bombay picking up the trophy amid all the cheers. It was then that I decided that I would contest for the post of GenSec. I wanted to be the first person from Kanpur to lift that cup! 

The Delhi Inter IIT (my third year) was like living a dream. We came in as overwhelming favourites – other teams were recording our practice sessions. However, the first game against Bombay was a cliff hanger – we scraped through 11-10. Our coach told us at half time – win this game and you will
win the championship. It turned out to be a prophecy – we won every subsequent match (4-2 Roorkee, 4-3 Madras and 3-2 Kharagpur). A particular moment of the final match will be forever etched in my mind – the game was tied 2 all with barely a minute left in the match. Kharagpur took a
time out at this juncture. We decided to try out something new. Prateek (recipient of Insti Blues 2011) suggested that Dhruv would receive the ball and pass it to Aneesh. I would go to the 2 metre line and on receiving the ball, would shoot immediately without taking a foul. When the play resumed, the script played out exactly as we had planned. I don't know how I took that back shot with the defender on top of me, but I do remember the referee's whistle – we had won! 

My final year was a blur. I was elected GenSec and was buried under the work. One of the first things I wanted to tackle was the award ceremony of 2011. Most of the current students will associate the event with pomp and glamor, but it was not always like that. The ceremony used to be a drab affair with around 30-40 students attending. I had promised Cheka (the then convenor of the Students' Senate) that we would make the event so successful that the Outreach Auditorium would run out of capacity. In the end, this did happen – formal attire was made mandatory for the first time and we
had award winners coming onto the stage in business suits!

Simultaneously, I had my own team to mentor. It was a new look team going to Kharagpur that year and hopes weren't very high. However, when we defeated Bombay (the strongest team on paper) 6-5 in the opener, people sat up and noticed. We followed it up with victories over Roorkee and Madras. Unfortunately our dream run was cut short – despite a valiant effort, we went down 6-4 to Bombay in the final- our first defeat in 12 appearances.

I didn't have a lot of time to brood over this loss. As soon as I came back to Kanpur, I was to address a more daunting task – building the contingent for the main meet. Having finished my own sport, I found it easier to attend the practice sessions of other teams. I wanted to make everyone believe that they were playing as a collective unit to win the championship – better known as contingent spirit. We had a talented bunch and I was hopeful. It was necessary that people in different teams knew and supported each other. Some of my initial efforts flopped spectacularly – a session of informal games was attended by only 30 contingent members (out of 150). Some others were moderately successful – two teams informally competing with each other in a third sport. I wanted every contingent member to feel privileged to be a part of the Inter-IIT experience. A new Durga Puja mess with better food was started to encourage students to stay back and practice. The food for the Inter-IIT camp was significantly enhanced – students looked forward to the meals. All of this
contributed to a sense of elite-ness which was inculcated in the students.
Unfortunately, as all of you would know, we did not win that year – we ended up 5th. However a there were many take-aways from the tournament. A tennis tie between Kanpur and Kharagpur stood out because at any given moment, we had more supporters in the crowd than the home team itself. In fact, is was special because throughout the length of the match, each of our teams came in to cheer at one point or the other. Our teams had never had the luxury of such support and I would like to believe that the crowd played a part in our victory. In the sport of athletics, Ashish Ganvir ran with a broken leg – moving the entire stadium to tears. We had a squash player who overcome his own physical limitations to reach the semis. We had a young badminton team which put aside an early loss to achieve a resounding victory, amplified by the last point – a ferocious smash. And these instances were few out of many! 

In the end, when we came 5th, there were a sense of deep disappointment which stuck with everyone. However, something magical had already happened – we gained a new resolve to avenge the loss because we believed that we were better than what the scores reflected. We collectively believed that we were capable of being champions – a feeling that I had never seen before in our teams. The younger ones took it upon themselves and were able to stage a comeback in their final year– Kanpur won the GC two years later.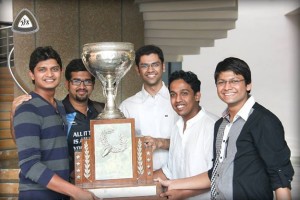 At a personal level, sports at IIT Kanpur taught me a lot of things. I made some of the best friends of my life, learnt how to manage time and resources. Most of all, I found a confidence within me – a belief that I am capable to doing whatever I desire to do, provided I put in my best efforts. This confidence has changed my personality and my outlook towards life. This feeling is echoed by a lot of my colleagues and I am very sure that with the sports culture now built in Kanpur, many more student athletes will follow.