I would like to present not an article, but a story. Once upon a time, there was a team. It happened to be one of the most under-performing teams in the Inter-IITs. Exiting the league stages was a norm. The team could hardly score a goal in the tournament. And then sometime in 2004 came a visionary captain in Avik Bhandari, who along with Vadi sir converted this team into a family.  A culture of belongingness, discipline and integrity was ushered in and petty politics on the lines of seniority and halls of residence abolished. The result – 7 consecutive podium finishes between 2005 and 2011. It was this period that produced legends like Ronny, Kush, DOPA, Pappu, Anda, Murgi, Pulkit, Anurag (the list is non-exhaustive) and transformed Kanpur's aquatics team into one of the most successful sporting units in the history of Inter-IITs.
Fast-forward to 2014. Aquatics team had failed to secure a podium finish in the previous two editions. It was heart-breaking but the culture imbibed years back kept the team strong. Those two trophy-less seasons only brought the team closer and hungrier for success. And 2014 also happened to be a watershed year of sorts. A good portion of first-choice eleven would be playing their final Inter-IIT. And no stone was left unturned this time around. A radically new strategy was adopted and players were defragmented from specialized to fluidic roles. In other words, focus of each and every team member was not to go in as a 2nd attack or centre defence, rather just as a water-polo player. So now you know the mind-set with which our team left for 50th Inter-IIT meet conducted by IIT Bombay.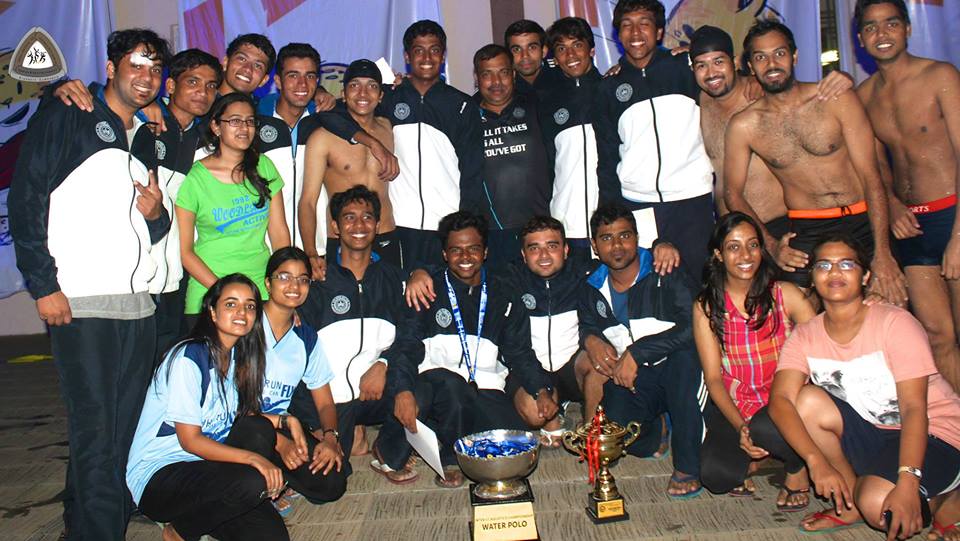 The first league match was against the home team. The swimming pool at IIT Bombay has a capacity to accommodate over 700 spectators and obviously, it was filled with IITB supporters. Undeterred by the cacophony of the home crowd, the visitors did what they knew best – smashing goals. And they did it in style. At the end of four quarters, an uneasy silence prevailed in the stands and the final score line read 7-2 in favour of the visiting team! Kanpur contingent ended Day 1 with silver in 400m freestyle (Parth Tripathi aka Genda), bronze in 50m breaststroke (Harshita Varshney) and another bronze in 4*100m freestyle (Genda, Kasauti, Vasu & Pikachu).
Day 2 started on an equally positive note. In the morning slot, there was the water-polo match against Delhi. Our team resumed the goal scoring streak they had displayed against Bombay the previous evening and smashed 13 powerful goals. Delhi had no answer to such a violent attack and succumbed to a 1-13 defeat. With this win, Kanpur qualified for semi-finals irrespective to of result of the evening match against Kharagpur. Also, the 12 goal difference remained the highest in the tournament. This was followed by gold medal in 200m freestyle for our very own Genda. Next we faced Kharagpur in the evening match. Kharagpur had finished as second runner-ups in the last edition and according to expectations, displayed considerable improvement in the tournament. What followed was a tightly contested match. Though our team fought bravely, final result was 4-5 in their favour.
Day 3 was a crucial day in our quest for gold. We faced the mighty Madras, champions of last edition in the semi-finals. Both sides weren't looking to settle for nothing less than a win. Each team matched other team's move; every goal was answered with a goal. There was little to differentiate the two teams and with just 2 minutes left on the clock scores were tied at 8-8. Kanpur held strongly to its fort and were just waiting for the Maddus to commit an error. And sure they did. In what proved to be mistake of the tournament, Madras team sent in a player who had been cap-rolled (equivalent to football's red card) for the match. Immediately, a penalty was awarded to us. Parth, our most experienced and potent attacker made the most of this opportunity and converted the penalty in an intense-pressure situation. Defence did its job to perfection and match ended with a score line of 9-8. We were a win away from gold! But the day was not over yet. Kanpur's torpedo, Parth was to compete in 50m freestyle and 200m individual medley. And the giant delivered with a bang! He not only bagged gold in 50m freestyle but also equalled the Inter-IIT record of 27.4 seconds (which incidentally, was set by our alumni Prateek Gupta aka Pappu.) To sweeten the day, he also added silver medal in the 200m individual medley.
Fourth day dawns and we faced our old nemesis Kharagpur in the final. Match started on a very spirited note from both the ends. But in the first quarter itself, things got bloody. Pranjal Gupta aka Kasauti while defending against Aman Kharb was hit just above his right eye. He had to be rushed to the Health Centre. Undoubtedly the most stupendous defender of our team was out of the final. Things didn't turn up well for Kanpur from then. Just before the last quarter, we were trailing 2-5 to Kharagpur. No one admitted at that time but many confessed later that moral was low. People had started losing hope and just then Mayura suggested to go in with double centre attack. With nothing to lose, we decided to play all out aggressive. Early in the final quarter and GOAL! The strategy was working and team started aiming for what others would have considered impossible. The team played out of their skin, fought for every inch and banged two more goals in their post. Kanpur had just pulled off mother of all comebacks! We were very much in contention and hearing this news, Kasauti fled the Health Centre to be there with the team. A penalty shoot-out was to decide the final outcome of the match. Match was on a cliff-hanger and it seemed like an eternity before the referee finally signalled the start of penalty shoot-out.
Kgp takes the first shoot. And MoGo (Captain Mohit Goenka) saves! Score: 0-0
MaMe (Manish Mehta) goes to take the first shoot from our side. Ball pierces the net like a bullet! GOAL! Score: 1-0
Kgp comes in for their second shoot. And MoGo save again! The captain's breathing fire! Score: 1-0
Mistry boy (Zubin) takes up position for our second shoot. He exudes raw power and before the Kgp goalie could even react, it's a GOAL! Score: 2-0
Our rivals come in for their third shoot. And MoGo overcomes the battle of nerves to save again! The Kgp camp can't believe what has struck them. Score: 2-0
Superstar Parth proceeds to take third shoot from our side. He finishes it perfectly! How poetic is it for Parth to finish it for Kanpur in his last Inter-IIT! His last goal brings in the gold!
Penalty shoot-out and celebration video
Kanpur camp was on an ecstasy. In addition to the water-polo gold, we also have a bronze in swimming. No words can describe the feeling that followed. All those laps, all those drills, all those cramps seemed like a small price to pay in lieu of that feeling. We pulled, we kicked, and we bled for a beautiful dream. The trophy has come home after a hiatus of two years and this sets the perfect preclude to retaining the general championship during the main meet. #JeetegaKanpur
Some heart-warming moments:
Kanpur's Aquatics Team has 8 water-polo podium finishes in the last decade. These include 4 Golds, 3 Silvers and 1 Bronze. The team scored a homerun (perfect 20 points) in 2009 Kanpur meet.
Barely a month before 2014 Aquatics meet, Parth Tripathi suffered from a LCL tear in his knee. In other words, his ligament couldn't hold his bone from popping out of knee socket. Additionally, he suffered from a Baker's cyst behind the same knee. Braving all odds, he gave a rocking performance, match after match; and broke records, race after race. Parth passes out this year with a career tally of 11 gold, 9 silver and 5 bronze medals. You sir, leave behind a legacy which will serve as an inspiration for future batches. Respect!
MaMe (12 goals), Zubin(10 goals) & Parth(9 goals) completed the line-up for top 3 goal scorers of the team.
Such is the culture of the team that it keeps pulling alumni to Inter-IIT meets even years after they have passed out. This edition saw the presence of as many as 7 alumni (Kittu, Anda, Anurag, Handa, Kunal, Meena and Tuti) cheering from the pool deck.
---
Vox Populi congratulates the Aquatics Team of IIT Kanpur for the glorious victory. Our best wishes to the entire InterIIT Sports contingent for Mission Mumbai. #JeetegaKanpur
---
This article has been aritten by Aman Pandya. Aside, you can read about his experiences as a final year student in this blog : Final Year Weekly!