In the August of 2013, Entrepreneurship Cell of IIT Kanpur added another event to the calendar to promote entrepreneurship in the campus . Having taken up numerous initiatives in the past few years to encourage young inventors on campus to make their innovations commercial, a need was felt to introduce the fest, which makes an integral part of campus activities in universities and institutes in and around Kanpur and across the country.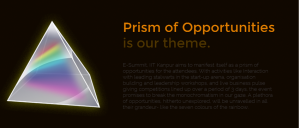 Thus, the idea of our very own Entrepreneurship Summit (E-Summit) was conceived. The fest took place from the 16th to 18th of August and was themed 'Prism of Opportunities'.
The structure of the fest was planned in detail and it was decided that it would be a three day affair with talks by eminent personalities on each day. Among the guests invited were Prashant Raj, Managing Partner and Director of TVF (The Viral Fever);  Harishankaran, Co- founder of HackerRank and Interviewstreet and Preeti Shenoy, best- selling author of Life Is What You Make It.
Along with the talks, workshops were organised in association with organisations such as the National Entrepreneurship Network (NEN)  and FOCUS Adventure. The main aim of the workshops was to help aspiring entrepreneurs refine their thinking skills and become acquainted with all the tricks of the trade such as acquiring funds and handling investors.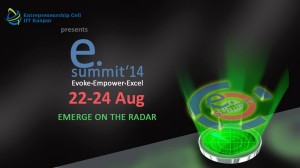 Various competitions took place with participants from both within and out of the campus.  To name a few, there was Mind-ur-Business, SoCha- Social Challenge and Pitch ur Product, with each competition designed to simulate real world situations and test the participants' knowledge of the start up world.
There was also a panel discussion on how enterprise funding mechanism works and participants had an opportunity for a one-on-one interaction session with a few of the venture capitalists and angel investors in the country.
This year, E Summit  '14 has promised to level itself up and and make its presence felt in the campus community. The theme for this year is 'Emerge on the Radar' with the tagline- 'Evoke. Empower. Excel'.  The E Cell team hopes to carry forward the legacy of last year's E-summit and at the same time, introduce a new flavour to the way the event is carried out.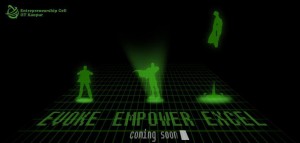 The summit is to take place from 22-24 August.
It has its own website: http://ecelliitk.com/esummit/ that can be visited for further details and registration.