Ayan Roychowdhury joined as a masters student at IIT Kanpur and pursued his Ph.D. here itself, his stay spanning eight years. He completed his schooling from a government public school in his hometown Barasat and did his bachelors in Mechanical Engineering from Jadavpur University. Currently, he is pursuing his postdoc at ESPCI, Paris
---
I grew up in the suburbs of Kolkata in a traditional Bengali brahmin joint family which had moved out of my ancestral home in Bangladesh during the political turmoil of the 1940s. The formative years of my sexuality were markedly different than my cousins and childhood friends. I was effeminate, but being raised in a conservative family meant there was a constant pressure to behave like a stereotypical boy.
My initial encounters with 'homosexuality' originated when I was around 10 years old. My first exposure was through newspaper articles about a then-controversial movie 'Fire' directed by Deepa Mehta. Besides this, a significant part of information came from the movies of the late Rituparno Ghosh, an openly transgender director from Kolkata, who addressed issues of homosexuality and gender roles in their movies.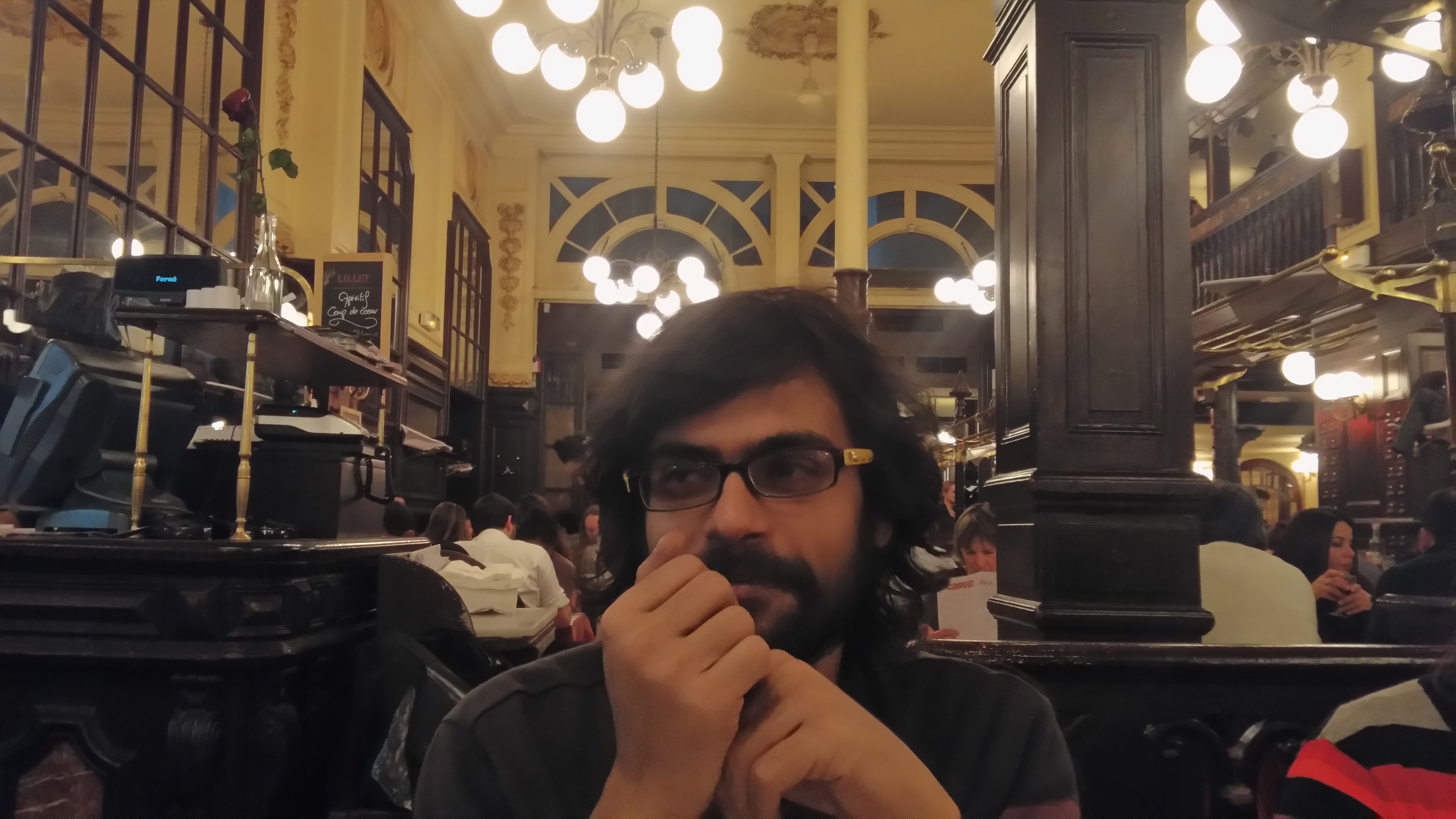 Still unsure of my own sexuality, I came physically close to one of my cousin brothers at home, who was three years older to me. It started as a sexual play born out of mutual curiosity and evolved into a long relationship of adolescent attraction engulfing almost all of my teenage years. Nothing concrete became of it, however, and years down the line it's still awkward and sour between us. The gradual understanding of my own sexuality deepened in high school when I had a crush on some boys. Yet, during my college years at Jadavpur University, I stumbled into a relationship with a girl I met there. While she was my girlfriend, I couldn't bring myself to like her the way I liked men. Concurrently, I fell for a guy in my batch and couldn't stop myself from advancing towards him. We texted daily at night for almost eight months till I ended up confessing my feelings to him on my 20th birthday. The confession freaked him out and he immediately ended our friendship.
During this difficult period, I started questioning the dilemma of my sexuality head-on. It was frustrating to live a double life. A part of me wanted to forget my identity and adopt the heteronormative structure of the society, while the other couldn't find itself to bring about a change. It was never a choice. After completing our graduation from JU, both of us (me and my girlfriend) joined IITK for our masters. This was my first time away from home, leaving memories of the complicated relationships in the past.
At IIT Kanpur, I suddenly found myself in a relatively open and free environment with tremendous resources like unlimited internet at hand. During the beginning of the first semester, as a part of one of the course assignments, I poured my heart out in a letter I wrote to the guy I loved in JU. As fate would have it, I mistakenly ended up sending it on the class mailing list.
While many of my IITK batch mates, including the instructor, read it and appreciated it over its 'grammatical/literary content', My identity was no longer hidden from my girlfriend. Eventually, she came to an understanding and became the first who I 'came out' to in my life. She was shattered to pieces after that revelation. It shook her as bad that she abandoned herself in her hostel room to cry for days. It ripped me apart too, witnessing the situation.
Not able to move forward with the emotional breakdown, we resorted to the Counselling Service for help. For the first time, I narrated my story to a complete stranger, the counselor Pratibha Mishra who then worked for the CS. The counseling and the antidepressant prescription proved helpful for both of us to temporarily overcome our mental situation. After some time, we gradually started interacting again—the 'moving on' phase— as she tried to come around the fact that I was not heterosexual. It was at this point in life when I decided that I couldn't lead that double life anymore, and came out to a few of my undergraduate batchmates and close friends from Kolkata.
Much to my surprise, while almost all of them naturally condemned me for my insensitive action, a very few encouraged me and supported me. Later, I found one of my closest childhood friends to be homosexual. This came at a time when it was still a taboo, and nobody wanted to talk about it. Eventually, I met a few more friends from my undergrad batch in JU who had joined IITK for masters. I came out to them as well. They supported me, and our interactions gradually transitioned away from the "taboos" surrounding homosexuality.
After a while, I gathered courage and wrote a detailed Facebook post about my sexuality and came out to hundreds of people online. My friends and batchmates received it quite well lest for one or two people who made derogatory comments. Subsequently, I became very active on social media. It kept me updated about LGBTQ+ communities and forums across the world. I also started exploring gay dating websites and met new people there.
It was through one of these websites that I was introduced to Manish, an IITK alumnus, who was open about his identity and had contacts in many support groups. He also introduced me to Amrita, another alum. They were in touch with many LGBTQ-activists, and I started reading about queer politics. They introduced me to their new initiative, UNMUKT, which they envisaged to be a support and discussion forum addressing gender and sexual diversity in the larger IITK community.
A while later, I started dating a student in campus, Vivek. All four of us, with another friend Sandeep, hung out frequently, often joined by our friends from other political awareness forums in the campus, like 'Humara Manch' and 'IITK Forum for Critical Thinking', addressing various other community-related issues of IIT Kanpur. I found many of them echoing with our own idea of queer activism. We also very actively organized and participated in discussions about issues relating to gender roles and the heteronormative structure of our society. It was a time when many like-minded people came together to address and understand the larger problems prevalent in our society originating from the oppressive caste and class system in India. I am glad that I got introduced to Prof. Suchitra Mathur. She was always filled with enthusiasm to talk about these issues. We would spend hours together discussing queer and feminist politics and envisioned formation of a platform where we could freely discuss these societal structures which dictate us to lead our lives in a certain a heteronormative way and outcaste people who don't align with it.
As a consequence of our vision, Unmukt was born in 2013. It was based on the lines of an existing platform Saathi in IIT-B and Queer IISc in Bangalore.
Through my personal experiences, I have learned that every kind of discrimination originates from a basic structure of society. It nurtures prejudices and stereotypes against anyone who won't fit their ideal image and role of a man and a woman. Gradually, we expanded the horizons of our discussion to look at a much bigger picture leading it to what Unmukt stands for presently. Every individual needs to come forward for the cause. It is essential for us to understand that this problem is neither unique nor limited to the LGBTQ+ community, and cannot be eradicated if we do not take collective action.
Credits: Avisha Gaur and Smarth Gupta
---
 The views presented above are the author's own and are not in any manner representative of the views of Vox Populi as a body or IIT Kanpur in general.