'Heralding the 21st century through automation, Pingala promises to be a one-stop solution to all our procedural requirements.'
Pingala is a massive project undertaken by the New Office Automation (NOA) team, set up by the Department of Infrastructure and Planning, IITK. This long term project started in the month of April last year, with a vision to automate all of the administrative procedures in the institute.  The database required for the project has been provided by 'Team Computers', a startup by an IITK alumnus, Ranjan Chopra. 'Pingala' is named after a little-known Indian genius who formulated the first binary digit system. This project has a lot to offer for everyone – faculty, office staff and students.
The project will be implemented in three phases. Presently, Phase I is underway, which primarily deals with procedural and accounting requirements. The NOA team has set a target to complete it by the end of this year. Phase II will be primarily for the unique requirements of the Dean of Academic Affairs (DoAA) and the Dean of Research and Development (DoRD). It consists of 46 modules and will take another 6-8 months. Phase III has as many as 63 modules dealing with requirements such as Gymkhana, Placements, IWD (Institute Works Department), RTI (Right to Information), Health Centre and many more. The third phase will take another 8-10 months. The team, however, plans to start the work of the third phase parallely with the second phase.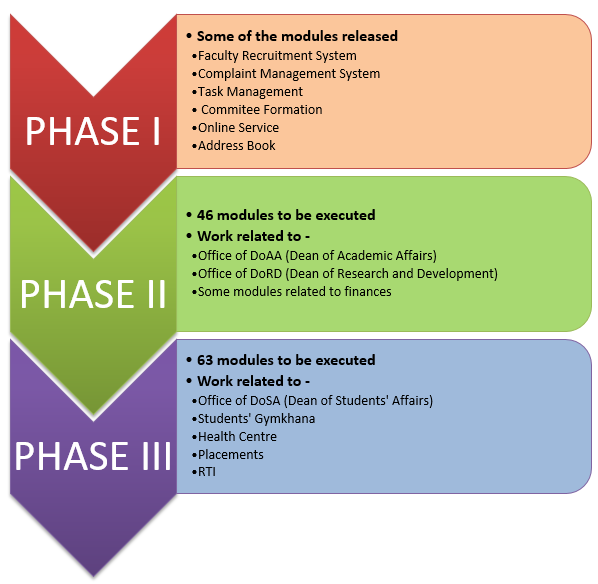 The modules that have already been implemented in Phase I classified according to user base:
For All
Complaint Management System – This is similar to the complaint management system of the IWD (Institute Works Department), but with a much better user interface and added features. The process to lodge a complaint is pretty intuitive and the correspondent has had his problems resolved within two days.
For students
Library automation –  This module aims to implement a comprehensive procedure for issuing and returning books. It can be accessed at libserv.iitk.ac.in
Letter forwarding – This portal has been released already. It can be used for multiple purposes, most importantly lecture hall booking and issuing transcripts. For every procedure, a workflow shall be defined by the Dean of Student Affairs (DoSA). The user simply needs to submit his letter/proposal, which shall be forwarded to all the persons mentioned in the workflow. The user may track his/her application using a reference number and once the procedure is complete, he/she will get a mail to collect the required document/permission from the concerned authority.
For Faculty and Staff
Faculty Recruitment System – Primarily for the heads of departments (HoDs), it is useful for submitting and shortlisting applications. It also facilitates compilation of tasks done by the HoD, so that they can be taken over by the nominated representative in his absence.
Task Management – This will be used by the faculty members and class I employees, It will allow them to create new task, assign them to students and staff and track there developments.
Committee Formation – In this portal, presently to be used only by well-defined institute committees such as SUGC and SPGC, the Chairman, Secretary and approval authority are defined. This portal can then be used for convening meetings, setting agendas, collecting feedback on agenda and convening the final meeting. It also has features that allow managing leave applications and appointing nominees.
Address Book – The Address Book module is meant for official purposes and is made available for the Deans and other senior office staff. It shall help them maintain all their contacts and a visiting card for all official purposes.
Online Survey – This module, as the name suggests, can be used to create general surveys on the entire campus community. Initially. this shall be open for faculty only. Later, it shall be made available for students. The survey can be circulated among specific groups like student groups, course groups as well.
An archival module is also being developed for the departments, where they can maintain an archive of students' personal records, important documents and other valuable resources. Important office orders will be stored directly in the archive. The concerned persons will be sent an email regarding it, and they may choose to share the order with any other individual through the common archive. This module shall be completed once the more fundamental modules are ready.
Once fully functional, it will indeed make student life at IITK a lot easier. Such procedural improvements are indeed noteworthy and commendable. Vox Populi wishes luck to the NOA team. May the project be up and running in full swing by this year.
 Written by Soumyadeep Datta, Harshit Bhalla