Bored of going to Hall 4 as your default hunger-pang saviour? Have a big date but got a wallet emptier than a packet of Lays? So here's the ultimate food-guide of IIT Kanpur. Happy hogging!
Lose It Like A Boss
Trying to shed those extra kilos, but lost between the battle of gymming (which you've been procrastinating for months) or dieting? Here's some good news: our next-to-perfect campus makes sure there's enough low-cal food, to keep your spirits (and your metabolism) high.
Need a quick snack? Pay our bhutta-wala, near the basketball court, a visit. Or how about the banana shake at Hall 4?
Stay hydrated with the all-time favourite lime-juice at any of the Halls.
Looking for something to do while getting those class notes photo-copied? Try the juice-shop next to the GH1 stationery. Yet another excuse to stick around the girl's hostel area. Thank us later.
Skip the evil sugar-craving and rush towards Hall 3. There are enough stalls of juice and fruit-chaat, lined outside, to sooth a sweet-tooth.
P.S. Keep off the nearby gol-guppa guy, though. Tempting as it may be, it's the last thing that should be going down your system during a fitness regime.
Finish your workout with a bottle of Gatorade. Hall 8 and 9 never disappoint with their always-full fridge.
End your day with idlis from Anna's stall outside Hall 3. Yes, he likes being called Anna. Mind it.
Disclaimer: The above would be best effective, if taken with a daily dose of an evening run. Happy shedding!
Jeb Pe Bhaari Pyar / A Hush-Hush Affair
So you've been dating her for a while, but you forgot your six-month anniversary with her. And you're too broke to afford a fancy meal at a swanky restaurant. And you're the same guy who also forgot the holding-hands anniversary and the looked-into-her-eyes-the-first-time anniversary. Trust us, a clichéd cake at Café Coffee Day shall not make the cut here. Try these pocket friendly ways and win her heart back. And while you're at it, learn to set reminders on your phone.
The smell of fresh grass, a sneaky view of the moon and mild chit-chatter in the background. The CC canteen, with its cold-coffee and cheese-maggie, at night is definitely a place to unwind and sugar-talk your way to glory. Yes, sugar-talk. No coding-jokes please.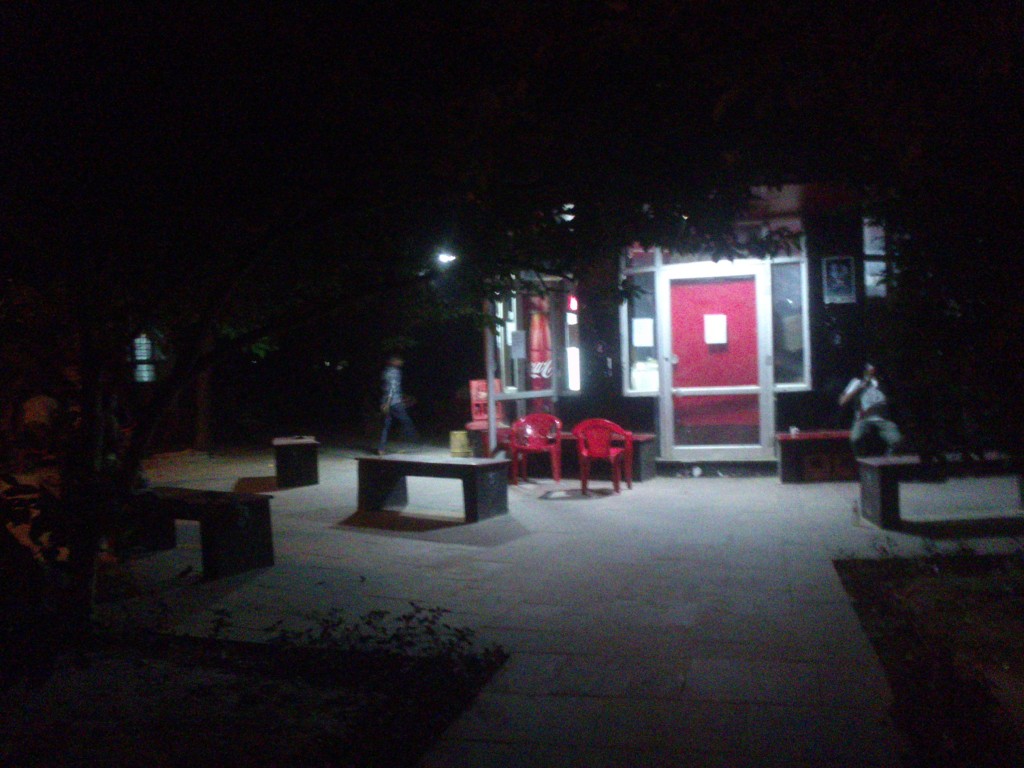 Stars on top, check. Cool breeze, check. A beautiful view of the campus. Check. We're talking about the OAT rooftop. With yummy chicken rolls from Kathi Inc. and faint melodies coming from the Music Room below, it's sure to start a fun conversation.
So sitting and talking isn't really your idea of romance. How about a long "walk to remember"? Stroll around the campus and stop over at Hall 9 or 11 for a quick snack. Tried & tested: Cheese Pasta, Momos, Baigan Pakoda. Also, steamy Tomato Soup goes perfectly with chilly winters.
Pro tip: Need to fix a fight and saying sorry a million times isn't doing the trick? Chocolates shall save your day. And ShopC is your safest bet. We're yet to see their chocolate shelves completely empty.
For Animal Lovers
Our vegan mates may skip this section.
For all non-veg junkies there is one wonder-food that always pleases the taste buds. Whether it's grilled, sautéed, baked, or roasted, cooked chicken has a massive fan-following world over. Move over KFC! Our campus has its own range of kukkar delicacies. Take your pick.
The Cheese Chicken korma  at Hall 2 is bound to switch your mood from drab to fab in a matter of minutes.
Chicken Nuggets at Hall 11 makes for an excellent quick-bite while taking a break between cramming sessions.
The Mughlai Chicken from Hall 3 is yet another option for a hearty full meal on a Saturday. Try it with rice. You won't be complaining.
The all-time favourite Hall 4 also has its pick of the dish with the mouth-watering Chicken Haryali
Meanwhile if fishing around is your sleeve, the Fried Fish at Hall 9 mess is definitely worth a try, to cheer up mellow Mondays.
Gate Ke Uss Paar
Agreed that the campus offers a great variety to satisfy your taste buds. But hopping around hall to hall, via the New SAC over the semester, a foodie is bound to get bored. With Huckas and Anaichas reasonably far from campus, you'll just burn a sizable hole in your pocket, while pursuing culinary delights. We present you a list of kadka dinner options just outside our Main Gate.
If you happen to be a chicken-lover, look not beyond China Town (No there's no chinese food. The place is as Indian as it gets.Yes, we got pretty Shanghaied too). Few steps away is its twin Chicken Darbaar. Órder the famous Chicken Biryani. Spice it up with Chilly Chicken or if you happen to be a tangdi fan, go for Tandoori Kalimirch.


USP

: These folks also deliver your order right at your hostel gate. Depending on your convincing powers, they might even include "cold-drinks" (of course, at a price) from the A-to-Z cold-drink shop. Yes, you can thank us by sending across a bottle of "cold-drink".
You are the sophisticated soul who loves eating out at proper restaurants. Enter Malgudi Days – the swankiest place in the IIT neighbourhood. It also happens to be one of the rare places around to savour Indo-Chinese dishes. Order the Schezwan/Chilly-Garlic Noodles along with Crispy Chilly Potato. Desi folks can opt for Murg Malai Tikka or Handi Paneer. The ice-cream bar and Paan shops outside provide a good variety of after-dinner options.
If going down south is your move, walk straight to Kerala Cafe. Order and let your jaws drop with the two-feet long paper dosa. Side it up with idli/vada + sambar or fried idli. Finish the meal with the Titanic sundae. You'll be more than full. In case you're not, get hold of Samarth or Bhanu to get a refund.
If you happen to be someone with dhaba 'feels', head to Sagar Dhaba situated about a kilometer towards Mandhana. This place happened to be very popular among night owls before the New SAC eateries came up and it still holds a cult status amid our alumni. Try the egg bhurji, dal fry + rice and masala-chai.
Pudina–chutney and aloo-tikki crossing your mind? Agra Chaat House is the place to satisfy your street-food cravings. From gol-gappa to papdi-chaat todahi puri. Light on pocket and heavy on taste.
Saat Samundar Door Se, Tadke Ke Saath
We like our pizzas with ketchup, pasta with paneer, vada-pav with mayonnaise and dosa with noodles. We have this uncanny ability to Indianize any cuisine and relish it with gusto. Here's a list of fusion/experimental food in campus that has passed our taste-test:
Pasta Cheese Paratha at Veggies, New SAC. Now who could have thought pasta and paratha, along with generous helping of cheese and mayonnaise would make such an amazing combo? Just make sure you aren't the douchebag who doesn't throw the plate in the trashcan.
Paneer Shake at the Hall 3 canteen. Legend has it that a senior member of Vox was challenged by his wingies to eat any paneer dish. Innovation sparked and the Paneer Shake was born.
Corn Tadka Munch with Chocolate Sauce, CCD. At first we laughed at the chocolate + chatpata combo. We guinea-pig tested it and this dish passed with flying colours. And for those who wish to go a step further, add tomato ketchup in the mix.
Egg Bhurji with Cheese, various canteens. For those who can endlessly gorge on cheese, generous amounts of mozzarella grated over egg bhurji is an absolute delight. Just make sure you're not so cheesy when approaching chicks.
Bas 2 Minute Mein Taiyar
You missed your breakfast for obvious reasons. And then your lunch because you had to rush to TA lab. The hunger pangs in your stomach are intolerable but there is still one more class with 10% attendance. And given the culture of the campus, you could face such bottleneck situations anyplace, anytime, anywhere. Some quick-snack options to your rescue:
Paneer/Aloo-Pyaaz Paratha, Hall 2 Canteen. Roll it, wrap it and run.
Dhokla and Kachori-Bhaji, DOAA canteen. During a lab-class transition.
Samosa, pakori, jalebi and chai, MT. Too late for New SAC, too early for mess. Good ol' MT to the rescue. The go-to adda after all-nighters.
Momos at Hall 9 canteen. Probably the only place in campus where you'll find this Tibetan delight. And  yes, go easy on the garlic sauce that comes along.
The chaat and egg stalls in front of Hall 3. Just too obvious.
BBC, all Hall canteens. Excellent comfort food. Try not to regret the extreme burst of butter and cheese.
Vada-Pav, Campus Restaurant. Actually, its an isotope of aamchi Mumbai's staple snack. But no one's complaining and it has a loyal fan-following in the campus junta.
Just got 10 minutes between classes? Fret not, they are more than sufficient to grab kachori-sabzee from CCD-ke-bagalwaali-canteen. PS: Only if you are not that irritating chap who keeps asking doubts after class.
Crown Burger & Wazwan Food are the latest entrants in the campus-hogging options, with Dominos Pizza rumoured to be on its way too. They have not been reviewed in this article as we feel we need to give them some time for the taste, quality and quantity to set-in. Vox Team would be raiding and rating it soon!
Written by Mitali Bhasin and Aman Pandya.