The third day of the meet which saw a new meet record being set, started on a rather bewildering note. The absence of many contestants from the 100m butterfly heats forced a combined heat.
The highlight of the day was when CK Anand Krishnan of Madras cruised home with a new meet record of 26.81 sec in the 50 meter men's freestyle, ahead of Dhritiraj Das of Delhi and Samarth Bhagwat of Bombay.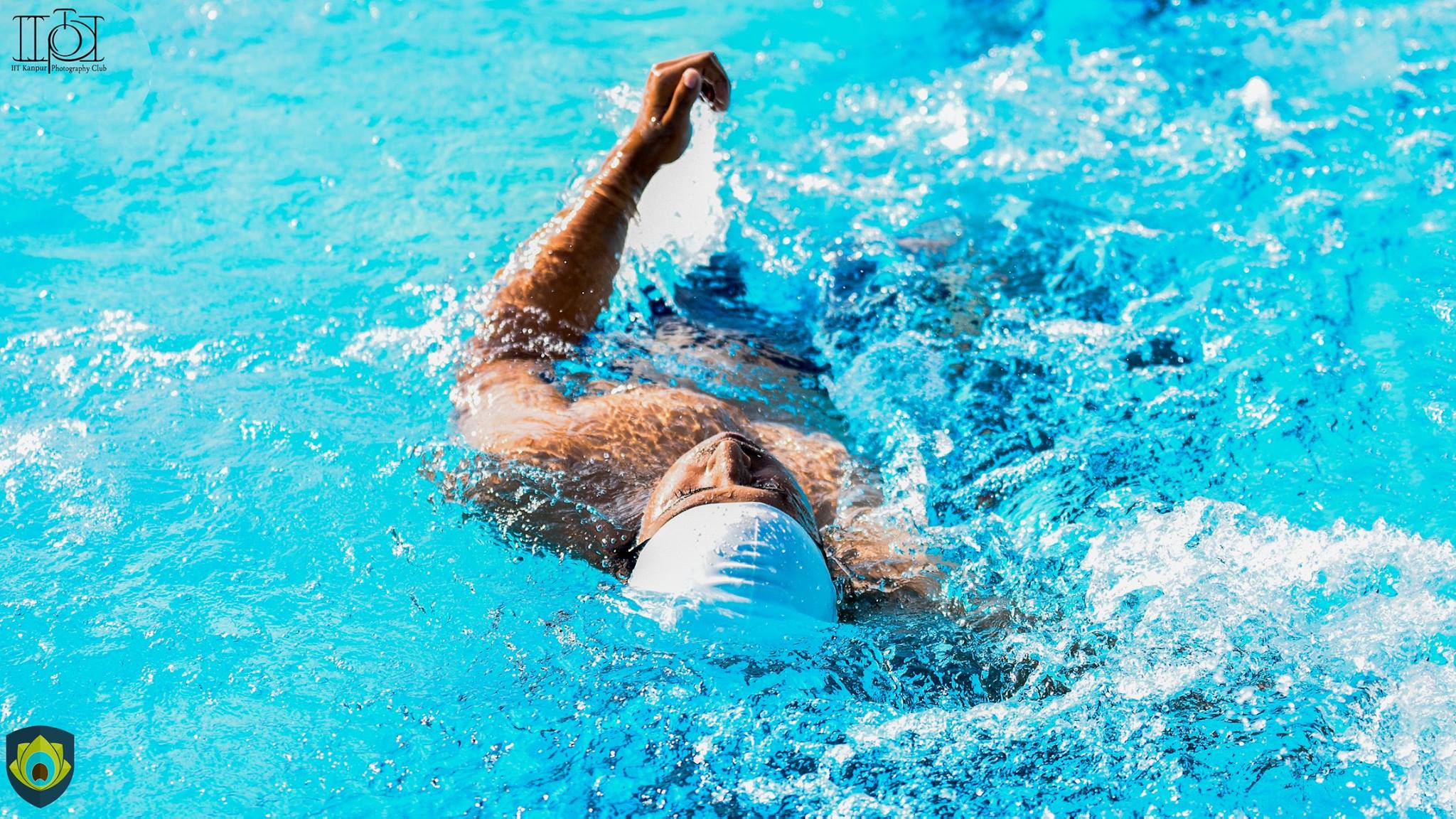 Resurgent hosts Kanpur also claimed 2 podium finishes  with Pookundam Saruanan and Anil Rulaniya coming in 2nd and 3rd respectively behind Siraj Modiwala of Kharagpur. The 50m women's freestyle was a close fought  battle with L.R. Kamala Devi of Madras finishing just before Kavya Kumar of Bombay, who came in 2nd and Vritika Bagudia of Delhi finished 3rd. To go by the stats, the gap between 1st and 2nd was just 3 hundredths of a second.
Yash Malviya bagged another medal with gold in 200m men's individual medley while Poonkunduran came in 2nd and Singdhi Anuj Milind of Madras came in 3rd. It was Yash Malviya again as he raced ahead to claim the first position in 100m butterfly. Maharnab Mitra of Roorkee was 2nd and Arijit Pramanaik came 3rd. Finally to wrap it all up, Sneha Aiswarya, Oindrala and Prutha from Kharagpur won a hotly contested 4X50 meter women's freestyle relay. Bombay and Madras Finished 2nd and 3rd respectively  
In the last pool stage match, Roorkee needed to pull off something unbelievable. But it seemed that their hopes of qualifying were dashed prematurely as Madras raced away to a 5-0 lead in the first half of the match. They regrouped in the third quarter, holding the scoreboard to 6-1 and in the final quarter they nearly pulled off probably the greatest comeback in Inter IIT history. They scored 3 goals in quick succession, leaving Madras reeling under this onslaught. However, it just wasn't to be as they bowed out of the tournament with a 7-5 loss.
With this, Madras topped Pool B and set up a semifinal date with Kharagpur. Kanpur would have to square off with Bombay and it promised to be a ripper.
Come evening, the promise was realised. In yet another draw, Kanpur came from behind to level scores with Bombay at 5-5. The first quarter was representative of the match. Both had scored twice and the atmosphere was electric. But Bombay started to pull away in the second when they held Kanpur and netted two. The tensions were high as Kanpur chased the game from 4-2 down. Amidst chants of "Kanpur! Kanpur!", they created strong chances and Bombay's defense finally gave in.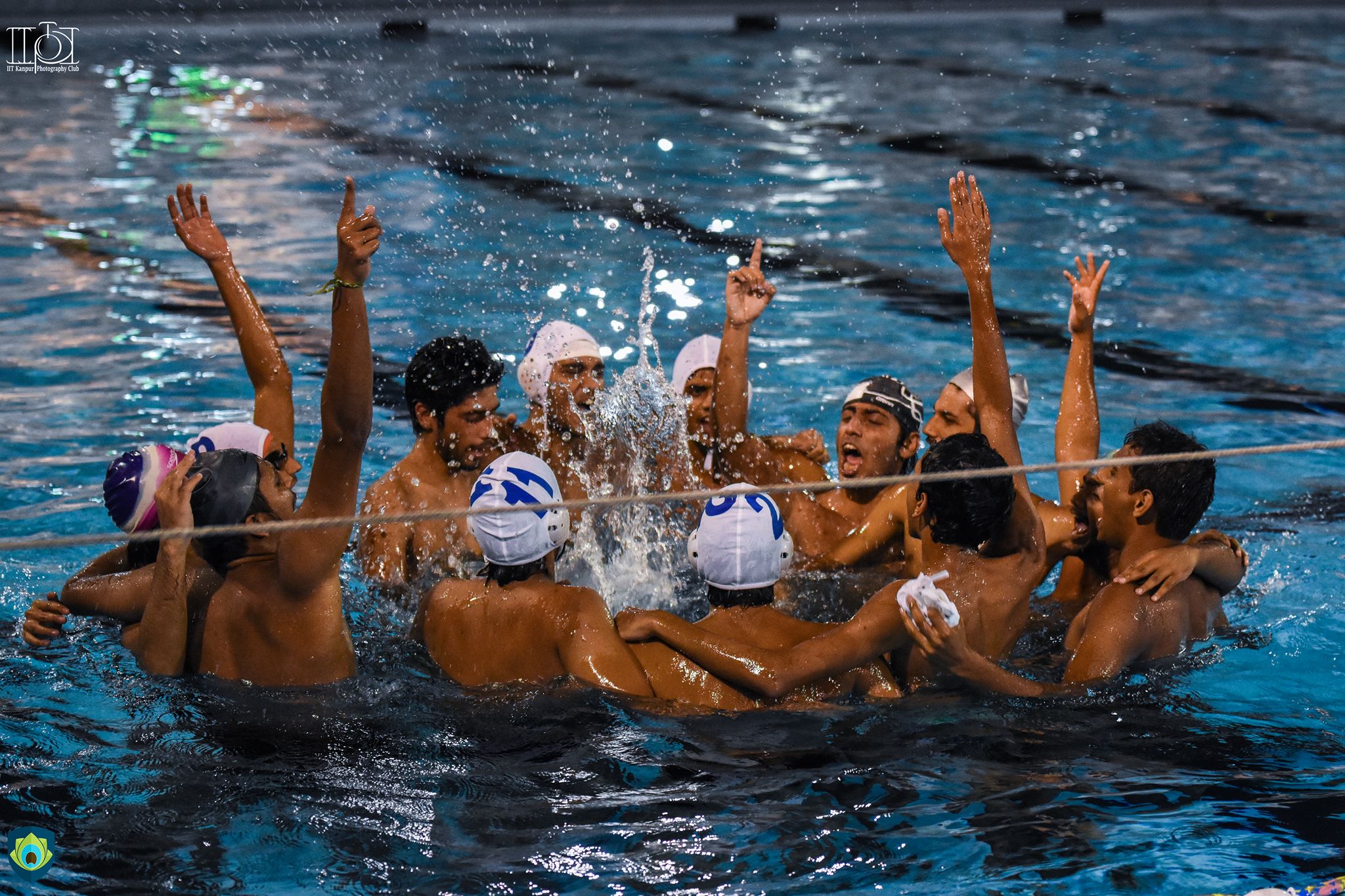 The penalty shootout, that followed, was a dramatic affair. Kanpur missed the second shot to fall behind but Arshil Abbas, the home goalkeeper produced two brilliant saves and even scored on his chance to turn the tables! Kanpur never looked back from there and won 9-8 and the celebrations began.
The second semifinal was nothing like the first one. It was shockingly one sided as Kharagpur neutralised Madras 12-1! From the start, KGP ruled the pool like usurpers, denying Madras every attempt at goal. They scored consistently except in the second quarter, which was a dry period in the game. Abhishek scored 5, Aman 3, Siraj netted 2 and Gitanshu and Pradeep scored one each. Madras had dominated the Pool stages but they fell short in the knockout. Kharagpur produced such a dominant display that Kanpur would do well to be wary.
Finally! We are down to the last two; Kanpur and Kharagpur are the finalists like in the 2014 Edition. We hope the match is the cracker it was when last they met.