Nikhil Upadhye, a Y8 batch alumnus of IIT Kanpur shares the experience of his journey from a civil engineering undergrad to being the co-founder and CEO of Aarav Unmanned Systems (AUS). Aarav Unmanned Systems is a techno startup from IIT Kanpur which primarily focuses on commercial application of drones. Following is the conversation of Vox Populi with Nikhil Upadhye which could not have happened at a better place: Airstrip IITK!
Who are the people working at AUS?
We are a bunch of engineers, developers and designers who develop high-end autonomous unmanned aerial vehicles. We primarily focus on the commercial applications of drones. There were four of us who started AUS and currently our team is composed of sixteen people, all possessing a technical background.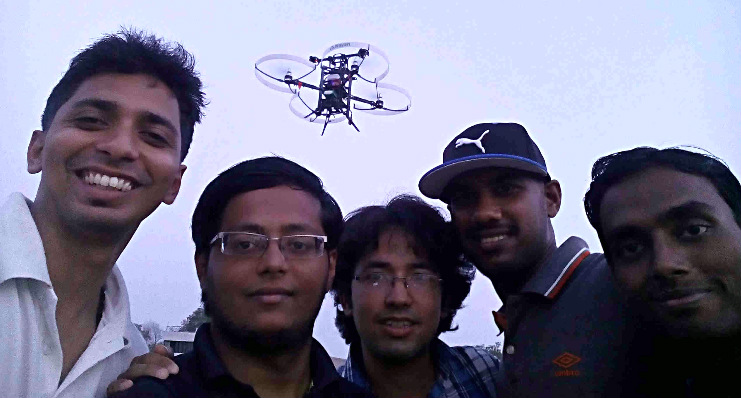 When did you start and how did you come together?
We founded AUS in September 2013. Well (chuckles), the second part is a long story. I'll try to cut it short. Suhas (Banshiwala, member of robotics club at IITK) and I were roommates. I was a member of aeromodelling club and used to do some work in the flight laboratory. There, I met Vipul (Singh) who completed his graduation from Amity University and was working here as a research assistant. Yeshwanth (Reddy) was Vipul's friend. He did his post graduation in aerospace engineering from IITB.
What would be the reason you will validate for forming this startup?
We are passionate about cutting edge technology. It was one of the emerging fields at that point of time. I, being a member of aeromodelling club, had worked in this field. I represented IITK in the SAE aero design competition as well, when it was our first time in the international event. I knew we had the capacity & potential to make these things indigenously. Plus I felt this is an area in which India is lagging behind and there is scope to grow.
What were the problems you faced initially?
Well primarily there were security concerns. India has never seen commercial applications of drones in the past. The bureaucracy is quite slow out here. But we were able to convince them by assuring that we'll take permission from the police whenever we fly over a particular area. I feel every new technology has to face such kind of hurdles.
Wasn't there any family pressure for taking up a job?
Not exactly. Yes, they were a bit apprehensive initially but they agreed by looking at my interest in aeromodelling. Since then, they have always been very supportive. Actually when I look at my batch mates, I realize that they might have got entries in their balance sheet but unfortunately they haven't learnt anything new since they left the institute. That's what I told my parents that, in case I fail I can always come back and take up a job. The change would only be of a couple of lacks of rupees which won't make a huge difference in life.
What are the applications of your product?   
Unmanned aerial vehicles have been used in defence. We look forward for their commercial applications. We provide applications like GIS surveying, 3D mapping, precision agriculture, industrial inspection and surveillance.
Every construction company has to do a survey of their plot. It is a critical part during planning. Our product will be replacing the conventional methods. Formerly surveying used to take 8-10 days. Now using our UAV's it takes 30 minutes of flight and around four hours of image processing. Even the accuracy is quite promising.
Apart from that we have also targeted precision agriculture. For that we just had to change the camera to multispectral camera. We collect the soil and crop health data and determine whether the crop is getting enough pesticide and water. This has helped the farmers to improve the productivity by 20-30%.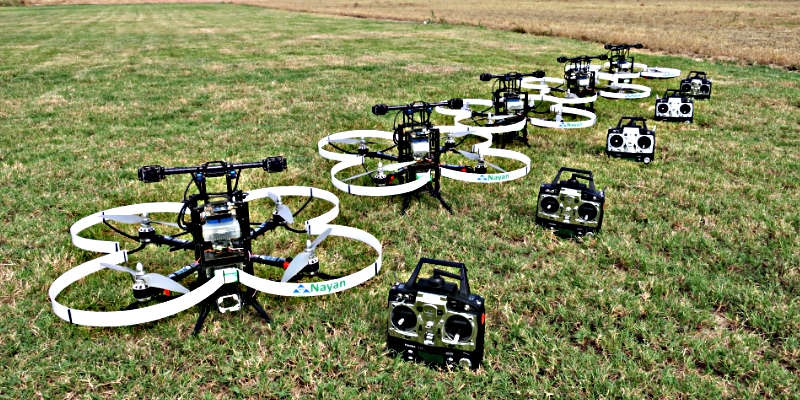 How helpful was IITK?
IITK has been very helpful. The major advantage was having an airstrip here itself. There are great manufacturing facilities, namely the 4i labs. We crashed hundreds of drones while testing. Ours is a hardware technology startup so funding is a big issue. We got a 25 lakh SIIC loan and used to work in the SIDBI Innovation and Incubation Centre, IIT Kanpur.
How do you carry out your manufacturing?
Our own team carries out the production. We have a good knowledge of composites. We do not place order to factories as they demand a number of pieces. This has given us a lot of flexibility.
What are your future plans?
We have a vision of unlimited expansion. We'll be focussing on commercial applications only. Drone delivery would be our next target.
Any word of advice for IITK entrepreneurs?
I have seen a misconception amongst students that building a B-Plan on paper will build a startup. One needs to have hands on experience in that field to be a successful entrepreneur. Downloading a B-Plan template and searching for investors is not the correct way. IITs are places where people have potential to build in core technology and innovations can emerge. Unfortunately students are less interested in the technical part and more in the swag associated with it.
Last question, how have you changed as an individual since you founded AUS?
That's a tricky question. I have changed a lot. The perspective of looking at things has changed. I have become more tolerant. Before forming AUS I had hardly faced any failure. Now there are plenty of them everywhere, be it registering a company or making something new. Life is not that easy, it was much easy earlier.
Written by Harshit Bhalla and Pratyush Rai