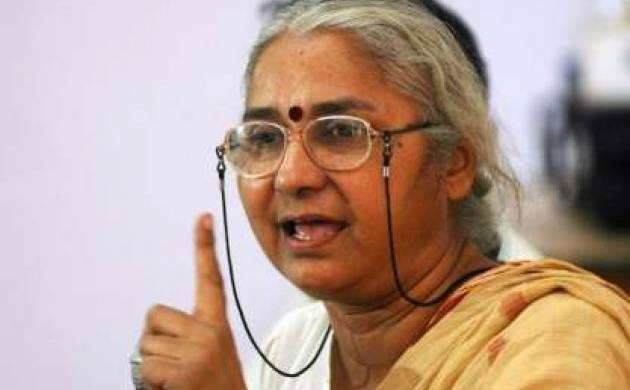 Ek Ayodhya ke Mandir or Masjid par kab tak ladenge, yaar! Humko toh hamare astitva ke sangharsh kahi jyada zaroori lagte hain.
Medha Patkar is a social activist working on various crucial political and economic issues raised by tribals, Dalits, farmers, labourers and women facing injustice in India. She is the founder member of Narmada Bachao Andolan (NBA) in the state of Madhya Pradesh, Maharashtra and Gujarat. NBA has been engaged in a struggle for justice for the people affected by the dam projects related to the Sardar Sarovar dams project, especially those whose homes will be submerged but have not yet been rehabilitated. She is also one of the founders of the National Alliance of People's Movement (NAPM), an alliance of hundreds of progressive people's organisations
She was in IIT Kanpur for a talk on 9th March, Day 3 of Techkriti'19, and the introductory lines are an excerpt from the QnA session after her talk. After that, Vox Populi got a chance to interview her with the cooperation of the Techkriti'19 organising team. Here are some excerpts from the same.
Q1. Yours has been a long journey of activism, being a woman shapes the journey in a different way, very often in a negative way. So would like to share certain experiences where being a woman has shaped your journey.
Ans. Well, bad experiences were not because I am a woman activist. For example, one night, I was returning late from work and no public transport was available. So I had to ask a truck driver for a lift and thereafter he attempted to assault me. I had no option but to run away. The point that I am trying to make is that this could happen to any woman and I was not targeted particularly for being a woman activist.

In fact, my gender brings certain advantages to activism. We can reach out to the 'chulha' which men activists certainly can't. Also, we are more perseverant and therefore do not let go of the tasks until goals are met. For example, the [Sardar Sarovar] dam has been made completely but we are still trying to expose the problems with it. This does not mean that we don't change our ways or our views even a bit, we need to have that openness as well because whatever steps we take must benefit the people. Apart from this, women have an inherent bonding with nature and therefore battles fought in the interest of natural-resources based communities are mostly led by women.
Q2. What is it that women bring to the table that compels the government to answer?
Ans. I will give you an example of a World Bank employee whose collar had been grabbed by a lady. The same World Bank official is now giving lectures on what he has learned from [the] Narmada [Andolan]. Today, the inspection panel formed in the World Bank has been formed due to [the] Narmada [Andolan]. The action of the lady to persuade the official on that day shows its effects even today. Women know really well how to convince someone in their own way.
Q3. As a legacy of our nationalist struggle, the makers of our constitution determined that we would be a democratic nation committed to civil liberties and socio-economic justice for all. What is or should be the role of students in realising this vision?
Ans. Much-much can be done by the students. First of all, they should be open to what is happening around and seek information, not only from the media but by becoming the medium themselves. These days, you mostly see panel-based discussions on TV channels and in-depth information is lacking in the news. Youth should do their research first and then build a perspective of their own.

We have started Jeevanshalas in Adivasi areas where the Adivasi youth are our teachers. We need many more people to continue our work and the youth can come ahead for it. Students also need to participate in these alternative ways of reconstructing(the society), each one with their own knowledge. But then career and payment become a limiting factor not allowing many people to come with us.
Q4. In recent times, we have seen a major crackdown on people working for the rights of marginalised workers, Dalits and Adivasis. On March 6, we came to know of the arrest of Lingaraj Azad. Sudha Bharadwaj, who is also an IITK alumna, was detained last year. What impact do these actions have on the community of activists? Does this create a crisis within a democracy where even constitutionally legitimate forms of dissent are criminalised? What do you think is the way out?

I think their [government's] intention is to suppress our vigour and our commitment, but that does not necessarily happen. Activists working for glamour and prestige may actually feel intimidated. However, those who are thoroughly invested in it feel even more committed after such a crackdown and the communities around them also rise up to the occasion. When I was imprisoned in 2017, people outside were more worried than me! Sometimes, these repressive measures become the ones that provide force to the movement.

However, these days the suppression of activist movements is happening in a really violent way, sometimes even leading to deaths of people involved. Many are denied justice in court. It is really a serious issue and more and more people should stand against it.

Q5. A distrust is being formed against the activists and people like you are being labelled as so-called 'urban naxals'. There is somehow this community of people who believe that this community of activists are not really contributing to the nation. What are your views on that and what measures can you suggest to counter this ideology?
Ans. These allegations are baseless and people try to serve their own interests using them. We have hearings of defamation cases dating back to 2000, where there have been allegations on us that we are foreign-funded. The reality is that we do not even touch the monetary part of the international awards for our work. Had we been using those sums of money, we would not have had to struggle for funds for the Andolan. But if we become like those big funded organisations, our way of working would completely change and we don't want that to happen. Many people tell us that we need to take funds from wherever possible, but I think that we would not remain this impactful if we do so. Farmers contribute to us, the land for our office was given to us free of cost and even the bricks were given to us for free, all this has happened only due to the fact that we didn't touch any of the award money given to us. When the first award was to be presented to us, a meeting of 300 people went on for the whole night and we all decided to reject the money. If we take the money we get many allegations for which have to fight a legal battle, it is better not to waste time in countering those allegations, as they cannot do anything to us as the work we do is visible to all.
I would urge those who feel that we are obstructing development to understand that what constitutes development, in itself, is a huge question.

We have experienced a lot of things during our struggle and I have learned that if you stay firm on your path and keep working, your work answers to all those who are questioning you. I am not saying that we should completely ignore what people talk about us. Amongst those people, there are some with a closed mindset and we cannot do much about them but we should definitely try to reach out to the open-minded ones and appeal to actually listen to what is said about the issues we raise and the kind of solutions that are proposed. Many times, we are also restricted to our own circles only which needs to be changed. This is why I always like to come to institutes like IITs and IIMs and request the students to come and spend some time with us.
Interviewed and written by Abhas Goyal, Archana Singh and Soumyadeep Datta